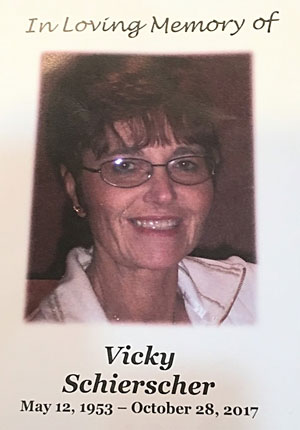 With heavy and sad hearts, many club members said goodbye to our dear friend and long-time member of Columbia River Corvettes Vicky Schierscher.
Vicky was a past President and until just a few months ago our current Secretary. We will miss her quick wit and her famous potato salad which we all looked forward to her bringing to get-togethers. We will always remember her in our hearts and minds.
The club wants to send condolences to Vicky's husband Joe and their kids, grand-kids, nieces, nephews and great nephews.
Memorial contributions can be sent to the Americana Diabetes Association, 380 SE Spokane NO. 110, Portland, OR 97208
---